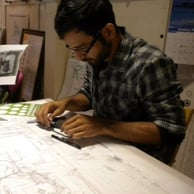 Eduardo Tapia
Although Eduardo grew up in a creative family, he never imagined that his doodling in class and his mother's love for gardening would lead him into a rewarding career as a landscape architect. Listen to this 10-minute conversation in which Eduardo shares his story.
At the time this interview was recorded, Eduardo Tapia...
Holds a Bachelor of Landscape Architecture.
Has 5 years experience in landscape architecture.
Works at Koons Environmental Design, Inc.
For more interviews in DAS' Emerging Design Professionals series, please visit designarts.org/conversations
Dr. Dwight E. Rhodes leads DAS' Diversity in Design initiative and is the founder of Rhodes2Equity Consulting.