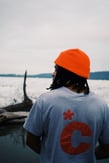 Antonio Wooten, Jr., a current industrial design student, is determined to improve the world in which we all live. He recently launched his new screen printing business that will boldly confront issues of culture and race. Listen to this 10-minute conversation in which Antonio shares his story.
At the time this interview was recorded, Antonio Wooten, Jr...
Is an Industrial Design student at Philadelphia University.
Is a Design Intern.
For more interviews in DAS' Emerging Design Professionals series, please visit designarts.org/conversations
Dr. Dwight E. Rhodes leads DAS' Diversity in Design initiative and is the founder of Rhodes2Equity Consulting.