NEW YORK, NY - 2017 CE SCHEDULE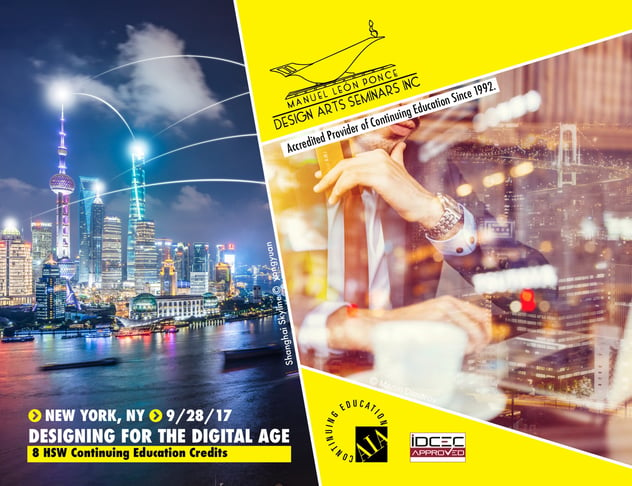 Join us on September 28, 2017 to earn 8 AIA- and IDCEC-approved HSW continuing education credits. Need more or fewer than 8 credits? Can't join us on 9/28? Prefer online courses? Check out our live and on-demand webinars. Prefer home studies? Check out our text-based home study programs.

*** REGISTRATION CLOSED ***
- Event is Sold Out -
Thursday September 28, 2017
@ Neighborhood Preservation Center
232 E 11th Street, New York, NY
(Union Square Station)
8am-5pm:

Designing for the Digital Age

(Read More...)
IDCEC-approved course #

106498

AIA-approved course # DAS310
8 HSW CE Credits

*** REGISTRATION CLOSED ***
- Event is Sold Out -
DESIGNING FOR THE DIGITAL AGE
Accreditation ↑
IDCEC-approved course #

106498

AIA-approved course # DAS310
8 HSW CE Credits
Course Description ↑
The digital age is here and it is fundamentally reshaping the built environment and dramatically changing your client's needs and expectations. Regardless of the type of spaces or buildings you design, the challenge of weaving our technology-enabled lives into the design is becoming the new normal for architects, interior designers, landscape architects, and urban planners. We are witnessing the evolution of the digital age with a flood of smart and connected devices seamlessly embedded into every aspect of our lives from our homes to offices, hospitals, schools, hotels, restaurants and cities at large. It is an exciting, and at times scary, transformation in which design professionals are key players. Love it or hate it, this is what's next, and it has already started. We hope you'll join us to learn more.
Learning Objectives ↑
Upon completion, you will be able to:
Explain the underlying technology of the Internet of Things (IoT) on which our digital lives and smart cities run, and articulate the potential safety concerns.
Discuss how the digital age and the Internet of Things are reshaping both the built environment and the tools with which it is designed.
Explain how the digital age is redefining access to healthcare, improving safety, and making our lives easier.
Assess opportunities for increased accessibility and sustainability in the digital age.
Instructor ↑
Lynne Wilkinson, RID, NCIDQ, NAHB,

is Principal Interior Designer for the firm Draco Designs based in Austin TX. Her passion for design developed during 12 years working and traveling abroad in over 150 countries studying and lecturing on the the art, architecture, and history of hundreds of cultures. These influences fused with an innate artistic aesthetic and technical abilities allow Lynne to create ond oversee unique designs that are as individual as the clients. During her many years as an Interior Designer, Lynne has completed a diverse number of projects in both the residential and commercial fields. Her award winning residential projects include high-rise ocean front celebrity penthouses, private luxury homes, and upscale model homes. In addition, she has designed several commercial projects including a 20,000 sq ft tourist information center, corporate offices, and the public spaces for a luxury condominium tower. Lynne is a licensed Interior Designer in the state of Texas and holds a NCIDQ National Certificate for Interior Design Qualification. She has earned degrees from The Art Institute and The Ohio State University.