ON-DEMAND WEBINAR BUNDLES / 20 Credits $249 / 24 Credits $299

Our 20- and 24-credit bundles include the required HSW and Advanced Florida Building Code Credits.
Our 20- and 24-credit bundles are video-based and designed to allow Florida-licensed interior designers and architects to earn - on your own time, at your own pace, from anywhere - the credits needed for license renewal.
Perfect if you are looking for need immediate access to the CEU courses.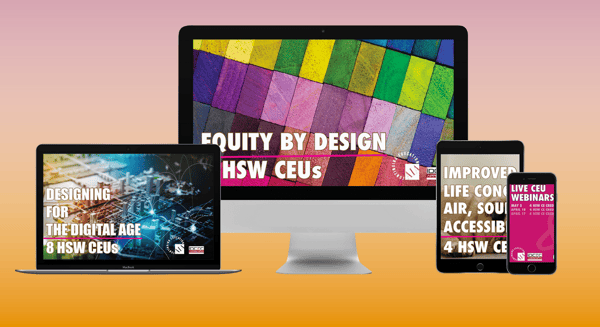 Our 20-credit webinar bundle ($249) consists of 5 on-demand webinars:
Our 24-credit webinar bundle ($299) consists of 6 on-demand webinars, which includes the 5 webinars listed above plus:
[3] Improved Quality of Life Concepts (4 HSW Credits)
COURSE DESCRIPTIONS

The digital age is here and it is fundamentally reshaping the built environment and dramatically changing your client's needs and expectations. Regardless of the type of spaces or buildings you design, the challenge of weaving our technology-enabled lives into the design is becoming the new normal for architects, interior designers, landscape architects, and urban planners. We are witnessing the evolution of the digital age with a flood of smart and connected devices seamlessly embedded into every aspect of our lives from our homes to offices, hospitals, schools, hotels, restaurants, and cities at large. It is an exciting, and at times scary, transformation in which design professionals are key players. Love it or hate it, this is what's next, and it has already started. We hope you'll join us to learn more. 8 HSW CE Credits (AIA # DAS310 - IDCEC # 106498 ↑
Equity by Design is about harnessing the power of design and architecture to tackle societal challenges. You may call it designing for the greater good or designing for positive change. Packed with examples of socially-conscious designs, tips, and insights, this seminar is a primer for architects and interior designers interested in leading the charge towards positive change. If you want to use your skills to design ways - big and small - to bring dignity, hope, peace, equity, and freedom to those who need it most in your community or abroad, then we hope you'll take the first step and consider joining us to learn more. Still wondering why you should attend? Because design matters and your designs impact the world environments. 4 HSW CE Credits (AIA # DAS311 - IDCEC # 106526) ↑
Improved Quality of Life Concepts
Join us to learn how quality of life concepts related to air, heat, sound, and accessibility can help you improve the quality of life of all users in any building environment. In this information-packed seminar, you will learn how floor heating and sound reduction contribute to overall wellness. You will also learn what you can do to improve indoor air quality, increase accessibility, and allow for aging in place. If accessibility, health, energy-efficiency, and comfort are important to your clients, then this seminar is for you. 4 HSW CE Credits (AIA # DAS312 - IDCEC # 106557) ↑
Modular Interior Design and Architecture
How fast do you think a 328-foot skyscraper can be constructed? Would you believe 360 hours? Now, what about transforming an entire room in just 30 seconds? That's the power of 21st-century modular interior design and architecture. You might also be surprised to find out how sustainable the modular production process is. Join us to learn how modular design is being applied to just about everything in our built environment from skyscrapers to apartments and incredibly innovative single-family homes that are healthier and safer. Find out how changing lifestyles are contributing to the explosion in prefab and how modular furnishings and finishes improve the welfare of our clients and allow for infinite customization using the power of the module. 4 HSW CE Credits (AIA # DAS313 - IDCEC # 106601) ↑
What is a Net Zero Energy and Water? Why should you care? Well for one, new federal mandates will be coming into play very soon that will create enormous changes. Also, global demand for energy is rising at exponential rates as it becomes even more scarce and expensive. Net zero design allows you to create buildings that have lower energy demands and can generate their own energy requirements on site. Sounds great right? This course will give you some of the basics for how to go about adding net zero features to your projects to create better structures, happier clients and a better world. 2 HSW CE Credits (AIA # DAS307 - IDCEC # 106300 ↑
Advanced Florida Building Code - Significant Code Changes

This course presents the significant code changes from the 2014 Florida Building Code to the 2017 Florida Building Code. The course highlights the differences and includes base code changes in the 2015 International Building Code and the Florida specific changes in the Building and Residential volumes. 2 HSW / Advanced Florida Building Code CE Credits (AIA # DAS318 - IDCEC # 107413) ↑
FAQs
How does it work?
Watch the video recording of the webinar. You can pause, rewind, and watch as many times as you wish. There is absolutely no limit.
Take a short quiz. This is an open "book" quiz. You can see the questions ahead of time. You can re-watch the webinar if you need to. It's unlikely but if you fail to pass the quiz on your first attempt, you can re-take the quiz (you would only need to correct your answer to the question(s) you answered incorrectly the first time around).
Receive your certificate of continuing education via email.
Can I preview the quiz? Yes, as soon as you click on the link to access the course, you will see both the course material and the quiz questions. You can print the quiz for your own use but the quiz must be submitted online.
Can I pause/rewind/restart the video? Yes, you can pause the video, rewind, and re-watch as many times as you wish.
Do I need to complete each on-demand course in one sitting? No, you can start a course, start answering the quiz questions, then save and come back to it later.
What if I fail the quiz? The passing grade is 80%. In the unlikely event that you score below the required 80%, you will be able to re-take the quiz.
Can I complete the on-demand webinars from a mobile device or tablet? Yes, these on-demand webinars can be completed from most desktops, laptops, tablets, or mobile devices with internet access.
How much time do I have to complete each course? The only limit is the date by which you need to have earned the credits. You can take as much time as you wish to complete each course at your own pace.
What is the cancellation policy? You can cancel at anytime for any reason.
NOT WHAT YOU ARE LOOKING FOR?
Online learning not for you?
Consider joining in person in Orlando or Fort Lauderdale for one of our 2018 Continuing Education Symposium or take a look at our home study bundles.
---