Michigan Architect Continuing Education Requirements
Steven Faviano, September 17, 2021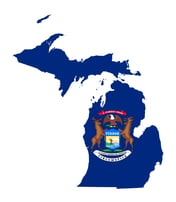 Licensed Michigan architects are required to complete 24 hours of Continuing Education in Health, Safety, and Welfare (HSW) subjects every 2 years.
CE Requirement: 24 Continuing Education (CE) hours, all of which must pertain to Health, Safety & Welfare (HSW) subjects every 2-year period. 1

2 of the 24 CE hours must have been completed in the year immediately preceding the application for relicensure.

No more than 12 CE hours may be earned in one calendar-day.
Renewal Date:

October 31

,

renewal year is based on your original year of licensure (i.e. whether the year is even or odd).
CE Reporting Cycle: Biennial - Credits must be earned between November 1 of the renewal year and October 31 of the next renewal period (for example, November 1, 2020 - October 31, 2022).

Acceptable Coursework:

The Michigan Board of Architects accepts continuing education programs and activities approved by AIA, USGBC, and State Boards of Architects.

It is the registrant's responsibility to use his/her professional judgment to determine if an activity

meets the Board's requirements

.

As always, final discretion is up to the Board.

Reporting of Credits

:

Licensees are required to attest to the completion of CE requirements as a condition of renewal.
Tracking of Credits: Records of successful completion of continuing education should be kept for at least 4 years from the date of application for license renewal.

Audit:

Michigan-licensed architects

may be subject to a random

audit

for verification of compliance with requirements.

Upon written request, those selected have 45 days to submit evidence of the fulfillment of the CE requirements.

Carry over: Not permitted.

Did you know?

Design Arts Seminars reports credits electronically to the American Institute of Architects so you don't have to. Check out the AIA Continuing Education Requirements.



Sources:
Post comments or questions directly to this blog or contact Design Arts Seminars, Inc.