Colorado Architecture Continuing Education Requirements
Marifi Tipton, October 16, 2018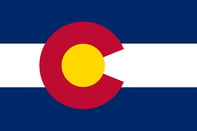 The
Colorado State Board of Licensure for Architects, Professional Engineers, and Professional Land Surveyors
requires
Colorado-licensed architects
to complete
12
(twelve) hours of continuing education every calendar year
.
CE Requirement: Twelve CEHs (Continuing Education Hours) per calendar year. All twelve CEHs must qualify as Health, Safety & Welfare (HSW) credits. Regardless of how the course is delivered (e.g in-person lecture, online webinar, etc.), participation in a process or procedure (such as a quiz) that demonstrates whether the architect retained the material presented is required*.
Carry Over Credits: Not allowed
Acceptable Coursework: The Colorado Board does not pre-approve courses or providers of continuing education. Use your professional judgment to determine if an activity meets the Board's criteria as summarized in this post and - most importantly - as detailed on Board's website (see "Source" at the end of this post for weblink).
Reporting of Credits: Providers CANNOT report continuing education credits earned to the Colorado Board, neither can registrants (except in case of audit - see "audit" below).
Tracking of Credits: Licensees are responsible for maintaining proof of successful completion of continuing education activities for at least six years from date of completion.
Audit: A random sample of registrants will be audited. If audited (and only if audited), registrants will be asked to submit documentation.
Source: Colorado State Board of Licensure for Architects
Post comments or questions on this blog or contact Design Arts Seminars, Inc.
* Only our text-based distance learning and on-demand webinars contain the required "proof of retention (quiz)". The HSW designation varies per course.