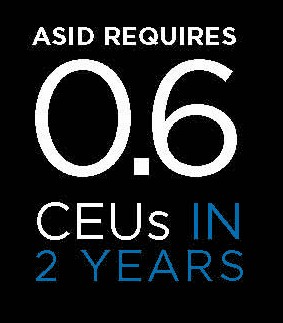 ASID (American Society of Interior Designers) requires practitioner members to complete 6 hours of continuing education (0.6 CEUs) every two years to retain their membership.
CEU Requirement: 6 hours (No CEUs required for those who become members within 6 months of end of CEU cycle. 3 hours required for those who become a member more than 7 but less than 17 months prior to end of CEU cycle. Those who join more than 18 months prior to end of CEU cycle are required to earn the full 6 hours).
CEU Cycle: Two-year period running from January 1 of even-numbered years through December 31 of the following odd-numbered year (e.g. first ASID CEU cycle ran from January 1, 2008 through December 31, 2009 then January 1, 2010 through December 31, 2011).
Acceptable Coursework: CEU courses should be IDCEC-approved (ASID does allow member to claim credits for non IDCEC-approved courses by filing a "self reporting submission form" and paying the corresponding $50 fee). IDCEC courses are approved under one of three designations: HS (Health & Safety), W (Welfare) and G (General). Any of the three designations are acceptable to satisfy ASID's CEU requirement but state-mandated requirements often require that courses be approved under the HS (Health & Safety) or W (Welfare) designation. Tip: If you hold a membership in ASID and a state-issued interior design license or regsitration, Design Arts Seminars' advice would be for you to seek courses that fall under the HS or W designation so you can claim credits toward both.
Reporting of Credits: Self-reporting (honor system where you basically login to asid.org and check a box stating that you have complied with CEU requirements. It takes less than a minute to complete and requires absolutely no course information). Providers cannot report credits to ASID on a member's behalf. Reporting of credits to NCIDQ cannot be used instead of self-reporting.
Tracking of Credits: Members are responsible for maintaining proof of successful completion of continuing education activities for at least four years from date of completion. Did you know? Design Arts Seminars keeps track of the courses you take with us and provides you with online access to your transcript saving you both time and money, especially in case of audit.
Audit: A random sample of ASID members (including those who failed to self-report) will be audited. If audited (and only if audited), members will be asked to produce proof of compliance (certificate of continuing education or transcript showing courses completed during the reporting period.)
Source: American Society of Interior Designers
Post comments or questions on this blog or contact Design Arts Seminars, Inc.

For a list of continuing education opportunities, please visit Design Arts Seminars' calendar of events.