ASID Continuing Education Requirements
Micène Fontaine, July 25, 2019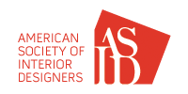 ASID (American Society of Interior Designers) requires professional, allied, and associate members to complete 10 hours of Continuing Education (1.0 CEUs) every 2 years to retain membership.
CEU Requirement: 10 hours (No CEUs required for those who become members within 6 months of end of CEU cycle. 5 hours required for those who become a member more than 7 but less than 17 months prior to end of CEU cycle. Those who join more than 18 months prior to end of CEU cycle are required to earn the full 10 hours).
CEU Cycle: Biennial - 2-year period running from January 1 of even-numbered years through December 31 of the following odd-numbered year (e.g. January 1, 2020 through December 31, 2021).
Acceptable Coursework: CEU courses approved by the IDCEC, State Regulatory Boards or industry relevant organizations such as the AIA, GBCI, NKBA, etc.
Reporting of Credits: IDCEC-approved credits are reported by the provider to IDCEC which then reports to ASID, IIDA and other member organizations. For courses not approved by IDCEC, members may self report credits. CEUs can only be counted once, if a CEU is repeated in a future compliance period it will NOT be counted towards the ASID CEU requirement.
Tracking of Credits: Members are to use the IDCEC registry to track earned CEUs and are responsible for maintaining proof of successful completion of continuing education activities for

at least

4 years

from date of completion.

Audit: At the end of the reporting period, ASID will review each members' IDCEC report. Select members will be asked to produce proof of compliance (certificates of continuing education or transcript showing courses completed during the reporting period.)
Carry Over Credits:

Not permitted.



Did you know?

Design Arts Seminars reports credits electronically to the International Design Continuing Education Council (IDCEC) so you don't have to.

Post comments or questions on this blog or contact Design Arts Seminars, Inc.