Alabama Interior Design Continuing Education Requirements
Micène Fontaine, July 17, 2019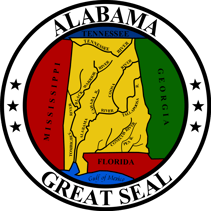 The
Alabama Board for Registered Interior Designers
requires
Alabama-registered interior designers
to complete
10 hours of continuing education every year
.
CE Requirement: 10 CEUs (Continuing Education Units) annually. All 10 CEUs must qualify as Health, Safety & Welfare (HSW) credits. At least 4 of the 10 credits must be related to codes and standards (i.e. ADA, ANSI, BOCA, ICC, LEED, etc).
CE Cycle: Annual - from October 1 to September 30.
Acceptable Coursework:

At least 4 of the 10 hours must be earned via in-person study (i.e. face-to-face seminars and presentations) and a maximum of 6 hours may be earned in self-directed setting (i.e. home study, online, correspondence, etc).

The Alabama Board does not pre-approve providers of continuing education.

However, IDCEC- and AIA-approved courses are generally acceptable but it is the registrant's responsibility to use his/her professional judgment to determine if an activity meets the Board's criteria as summarized in this post and - most importantly - as detailed on

Board's website. Final discretion is up to the Board.
Reporting of Credits: Providers CANNOT report continuing education credits earned to the Alabama Board. However, registrants - as part of the annual renewal process - are required to attest to the completion of the required continuing education.

Tracking of Credits: Registered Interior Designers are responsible for maintaining proof of successful completion of continuing education activities for at least two years from the renewal date for which they were claimed.
Audit: A random sample of registrants may be selected for an in-depth audit to verify compliance with continuing education requirements.
Carry Over Credits: Not permitted.
Source:
Alabama Board for Registered Interior Designers
Post comments or questions on this blog or contact Design Arts Seminars, Inc