AIA Continuing Education Requirements
Micène Fontaine, August 16, 2019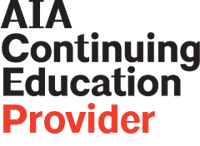 The American Institute of Architects (AIA) requires members to complete
18 Learning Units (LUs) of continuing education
every year
to retain their membership.
Requirement: 18 hours of Continuing education total, of which
12 must be on the topics of Health, Safety & Welfare (HSW). One hour of continuing education equals 1 LU.
Cycle: Annual (calendar year).
Acceptable Credits: HSW LUs may only be earned by completing courses offered by an AIA CES Registered Provider, who is

responsible for reporting earned credits directly to the AIA.

Reporting of Credits: AIA CES Registered Providers must report credits to the AIA for inclusion on a member's transcript. Self-reporting by members is only allowed for non-HSW credits earned via courses offered by providers outside of the AIA CES Provider network.
Tracking of Credits: Credits earned by AIA members are recorded on members' transcripts (see "Reporting of Credits" section above).
Audit: The AIA performs an annual n

on-compliance member audit.

Carry-over Credits: The AIA allows members to rollover up to 18 LUs, including the 12 HSW LUs. Credits may not be carried over past the one year limit.
Wondering about state-licensure requirements? Check out the Architecture Continuing Education Requirements page to find your state.
Source:
Post comments or questions on this blog or contact Design Arts Seminars, Inc.